Remembrance of Teachers
REMEMBRANCE OF OUR TEACHERS AT CARROLL
ANDREW J. BOYLE, O.S.A. 1923-1997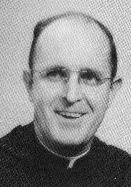 Religion, English and School Librarian
Served as a Chaplain's Assistant during WWII, and was ordained a priest on June 5,1955. He taught at Carroll for 14 years through 1969. His obit states that Fr. Andy's legacy was his keen interest in and love for his students.
JAMES T. DEERY, O.S.A. 1922-2003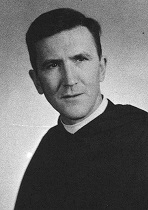 Religion
He served in the U.S. Army Medical Corps in the 1940s and later became an Air Force Chaplain. He was ordained on June 5, 1951 as a priest, and Carroll was his first assignment. Later, he returned to Carroll four different times. He served at several parishes after leaving Carroll.
ANGUS CARNEY O.S.A. 1916-2012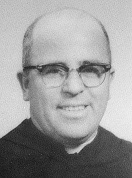 Algebra
He was ordained to the priesthood on May 29, 1943. He received his MA in religious studies from Villanova. During his career he served in both the parish ministry and teaching high school. He was at Carroll from 1952 to 1967. He served at several parishes after leaving Carroll.
WILLIAM M. CUSICK, O.S.A. 1921-1978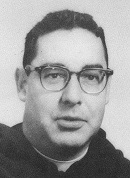 Chemistry and Physics
He served in the United States Army from 1943 to 1945. Obtained a BS degree in Chemical Engineering in 1950 and a Masters Degree in Chemistry in 1954. On June 6, 1954 he was ordained a priest and taught at Carroll from 1954 until 1966. He also served as a reader for the SAT Physics and Chemistry Advanced Placement Tests of Princeton University.
JOHN F. FARRELL, O.S.A. 1932-2012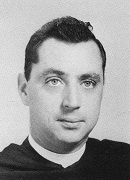 Religion, Algebra and Geometry-Trigonometry
He was a very learned man with a BA in Philosophy in 1955, a MA in Mathematics in 1962 and a Phd in Economics in 1972. He was ordained to the priesthood in 1962, and Carroll was his first assignment. At Carroll from 1959 to 1964 he taught, was moderator of our cheerleaders and the Patriot yearbook and was a Dean of Students. After that he taught at several colleges, including Villanova. In later years he was active in development and fund raising efforts at Villanova.
FRANCIS J. FITTIPALDI, O.S.A. 1924-1994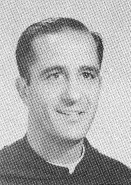 Religion, Spanish and Chaplain
He was ordaned to be a priest on June 5, 1951. His first assignment was the Universidad de Santo Thomas in Havana, Cuba, where he taught relgion, english history and served as a chaplain. In 1954 he was transfered to Carroll where he taught and served as a chaplain also. In 1967 he left Carroll for another high school and never returned. He suffered from Parkinson's disease for many years.
Charles Flynn, O.S.A. 1915-1998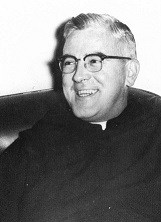 General Science
Father Ryan was at Carroll teaching from 1959 until 1962. He had a MA in education and an M.S.L.S. in library science from Villanova. After leaving Carroll he taught at several other schools.
THOMAS J. MAHONY O.S.A. 1928-2009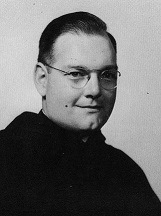 Biology, Rector
Father Mahony earned a BA in Philosophy in 1951 at Villanova and an MS in Biology in 1955 from Catholic University. He was ordained a priest on September 12, 1954. His second assignment was Carroll, where he remained from 1955 to 1965. He later taught at Biscayne College in Miami, Florida, and he was also the Treasurer of the College and Director of Financial Aid.
JOHN C. MALONEY, O.S.A. 1928-2009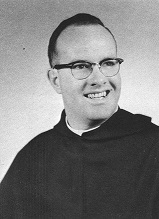 English
Father Maloney was ordained on June 9, 1962, and was immediately assigned to Carroll. He left in 1966 to pursue his doctorate in Education from Catholic University, which he received in 1968. He served in campus ministries and as a parish priest. He was known as an accomplished musician and an author.
FRANCIS MELCHER, O.S.A. 1927-2001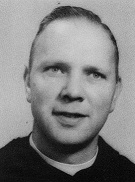 German, Geometry
He earned a BS degree in Philosophy in 1950 and a MA in German in 1954. He was ordained to the priesthood on September 8, 1953. Carroll was his first assignment in 1954 and remained there until he was transferred in 1968. He served at various shools after leaving Carroll. He was later a Chaplain at the Haverford State Hospital in Pennsylvania.
FATHER JOHN "JACK" O'MALLEY 1929- 2016
Jack, as he was called by his friends, served as an English teacher at Carroll for 13 years from 1954 to 1966 and returned for the 1987-1988 and 1988-1989 acedemic years as its Principal. Over the years he had various teaching and administrative positions at Catholic University, Salem State, Emmanuel and Merrimick colleges, and Villanova, Saint Thomas and Widener universities. He died on June 12, 2016 at the age of 87 with his wife and two dogs by his side.
FRANCISCO J. RODRIGUEZ, O.S.A. 1933-1986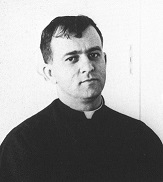 Typing, Religion
Born in Marianao, Havana,Cuba he had his primary education in Cuba, but graduated with a BS degree from Spring Hill College in Mobile, Alabama in 1955. He was ordained to the priesthood on February 9, 1963 and assigned to Carroll in the fall of that year. After only one year at Carroll he was given another assignment, but returned to Carroll in 1970 for a four-year period, and then left to organize the bilingual institute and program at Biscayne College in Miami, Florida.
Father Rod died of cancer in Miami at age 53.
JOSEPH C.SCHNAUBELT, O.S.A. 1931-2013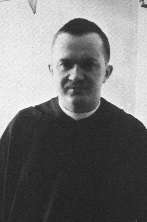 Latin
Ordained on June 8, 1955, Father Schnaubelt came to Carroll in 1963, but left in 1966, and came back in 1967 and only to leave again again in 1970. He had a Masters in the Classics from Catholic University and later taught at the Augustinian Historical Institute at Villanova.
ARTHUR SMITH, O.S.A. 1929- 2007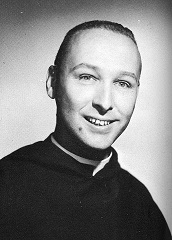 American History, World History, Religion, Vice Rector
His grandfather was Alfred Smith, who was a former governor of New York, and the Democratic presidental candidate in 1928. Father Smith served in the armed services in 1944-1946. He was ordained on June 5, 1954 and Carroll was his first assignment in 1955, where he remained until 1963. He later became the Archivist of the Saint Thomas Monastery at Villanova,Pa.
CYRIL J. SMITH, O.S.A. 1929-2009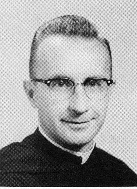 Dean of Displine,Vice Rector, Rector
He received a BA in Philosophy from Villanova in 1951, and was ordanied to the priesthood on February 5, 1955. His first assignment was Carroll where he served as a teacher, disciplinarian, Vice Rector (1962-1971) and Rector(1971-1975). He left in 1977 and spent all of his ministry in education.
REV. MSGR JOHN J. SKELLY, 1928-2012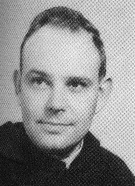 Religion, Latin, Geography
Monsignor Skelly was ordianed a priest for the Augustinian community on December 23, 1953 and served as a teacher and treasurer at Carroll for eleven years. During that time he also served for five years as a civilian auxiliary Air Force Chaplain at Andrews Ar force Base. He earned a MA degree in georgraphy and political science from Catholic University. He left the Augustinian Order after 15 years in 1968 and became an Archdiocesan priest. In June of 1987 he became pastor of the Church of St. Mary in Manhassset, New York. There he merged two separate (one boys and one girls) high schools that were financially failing into one coeducational school with a solid financial footing.
ROBERT E. STEINMAN, O.S.A. 1932 - June 15, 2015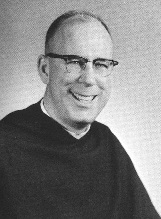 Agebra, Geometry, Religion, Advanced Mathematics
Father Steinman was ordained to the priesthood in 1950, and then assigned to Carroll in 1951, where he stayed unitl 1964. He taught mathematcs during the four years that we were at Carroll. He was also the Alumni Director during that period. In 1964 he was transfered to preach in the Augustinian's Mission Band retreats and missions throughout the country and continued in this until 1990. He resided at the St. Thomas Monastry on the campus of Villavova University for many years until his death in 2015.
DR. WARNER J. CONNICK 1938-2002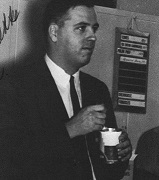 English and Economics
Dr. Connick was fairly new to Carroll as we were nearing graduation, but many of us had him for classes in our final year. Warner was a 1960 graduate of Notre Dame University, and received his masters from George Washington University and his doctorate from the Florida Institute of Technology. He served as an aide to President Kennedy and President Johnson, while he was in Washington. He was employed as a psychologist at the Burnham Woods Counseling Centers of Florida inCoca, Fl. prior to his death in a car accident.
MOSS COLLINS 1931-2007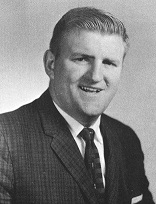 General Science, English and Head Football Coach
Moss Collins was Carroll's beloved head football coach who guided the Lions to 14 Catholic league titles from 1960 to 1988. In our freshman year his team won the City Championship at the old Griffith Stadium by beating Eastern High School on Thanksgiving Day. His record was 237-45-7 at Carroll. He was also a Guidance Counselor and the school's Athletic Director. He later coached at Gonzaga. A lengthy obituary in the Washingon Post began with the headline "Beloved Coach Won With Execution and Wit.".
WILLIAM H. ICKES 1936-2010
English and Mechanical Drawing
Mr. Ickes was born in Bloomsburg, Pennsylvania in 1936 and attended a one-room school house during his early education. He earned his BA from Villanova University in English and a Masters Degree from Catholic Univeristy. He taught at Carroll during the years 1960-1964, after which he left to go to the Bullis Prep School in Silver Spring before it moved to Rockville. He and his wife moved in 1966 to Long Island where he taught for over 30 years in the Sachem School District, first as an English teacher and then teaching Remedial Reading. He passed away on March 7,2010 leaving a wife, three daughters and six grandchildren. He was preceded in death by one son in 2001.
COLONEL CORNELIUS M. REING 1928-1981
Political Science and History
He taught at Carroll from 1963 until 1981. He was a graduate of Cathoic Univeristy and was a Career Army Officer from 1941 through 1961 ( served in Japan and Germany after WWII).
JOHN A. (JACK) MILLER 1939-2001
Drama and English
Jack won the Pultizer Prize for his play, That Championship Season. He direccted and starred in several plays and films. He played Notre Dame Coach Ara Parseghian in the movie Rudy.